Secure your free intentional living tools
- calendar -

...our day-by-day guide to wellbeing, productivity, and sustainable living.

learn more

- Guides -

...explore in more detail how to enhance your wellbeing and productivity.

learn more
vegan & eco-friendly
using organic and natural bio-based materials or 100% consumer recycled alternatives
sustainable practices
locally sourcing materials from within the EU & cultivating a minimum-waste approach
footprint reduction
printing climate neutrally & offsetting total CO2 emissions by >100%
premium quality
craftsmanship made in Germany by small-scale family-run business partners
sophisticated design
timeless pieces presenting both professional and modern
our materials
"BLUE ANGEL" ECOLABEL PAPER

VEGAN LEATHER

NATURAL RUBBER

100% CONSUMER RECYCLED POLYESTER

CERTIFIED ORGANIC COTTON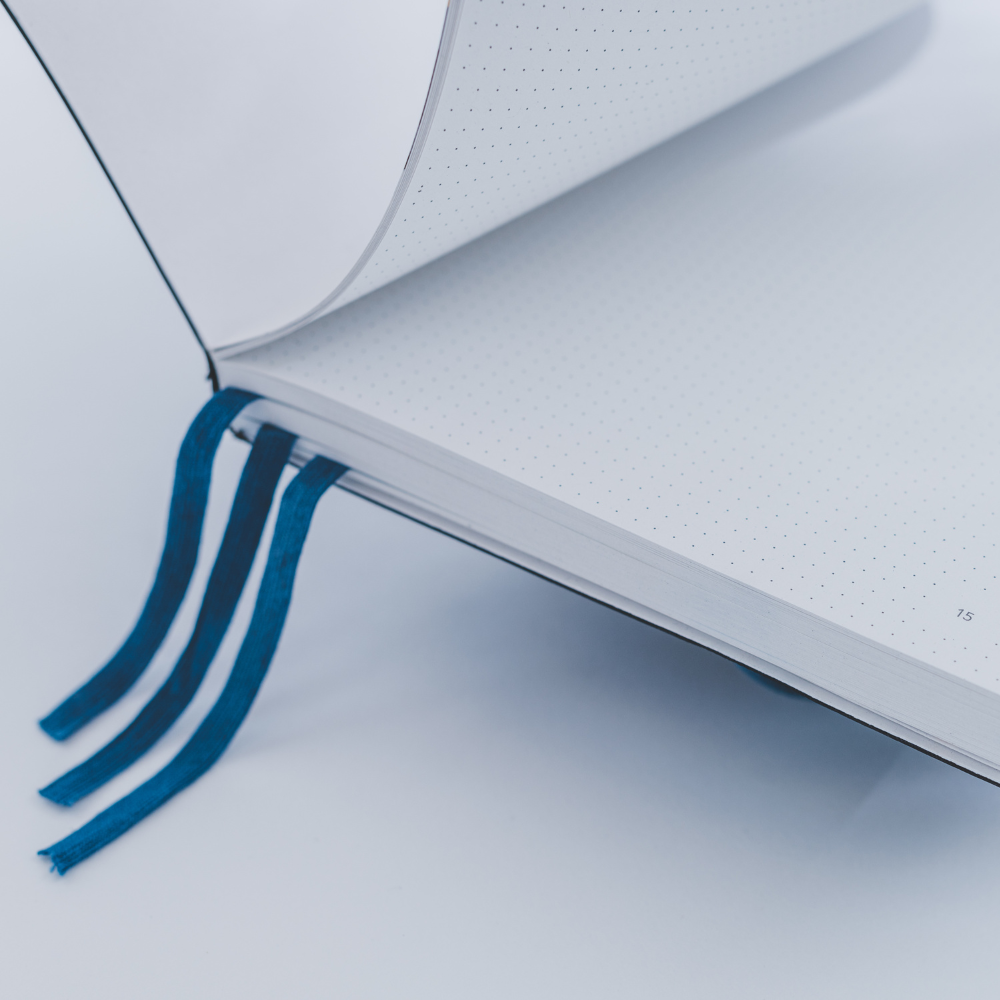 Introducing your companion for self-management and supporter in intentional living
Timeless, professional, modern.
Sustainability and style meet premium quality made in Germany.

nez living notebooks are vegan and bio-leather bound, offering a solid thread-stitching of 100% consumer recycled polyester to ensure a perfect lay-flat behaviour for a comfortable note taking, list making, journaling and drawing experience. Equipped with 176 pages of luxuriously heavy paper for low transparency and a smooth grip, the notebooks have a dotted grid with page numbers for maximum flexibility suiting whatever purpose you have in mind when putting your pen to paper. Secure your notes with an elastic closure made from organic cotton and natural rubber. To discreetly keep track of your different unique ideas, work with the three bookmarks for an easy grouping of important sections as well as with the big back pocket for all your loose paper, sticker pads or memorandums. The penholder makes your notebook conveniently compleet on the go.
The opening and closing pages of the nez living notebooks are beautifully customised with additional inspiration for goal-setting, time-management, daily focus and greatness lists, journaling prompts, and affirmations - helping you to make ​​conscious decisions about how you structure and organise your time while offering ideas for contemplation and reflection of your thoughts, feelings, and emotions. Intentionally crafted, the nez living notebooks come in a range of colours, sizes and designs to suit your style perfectly.
explore our notebooks
Reviews
I am very much impressed by your notebooks. They are very high in quality and beautifully crafted. Really wonderful products.

nez living offers more than just a notebook. It will be a reference book that will be filled with wise life lessons that I can hand down to my children knowing that I did everything in my power to keep our mother earth healthy and safe by choosing consciously today.

I am in love with my new notebook! It's not just great to write in due to the soft paper, the dotted grid, and the fact that it lays completely flat, but also because this luxurious notebook is extremely sustainable. The fact that every detail is well thought through makes me almost hesitant to start writing in it... almost :)
As seen in
Inspiring and enabling your intentional living
" The story of nez living can be brought back to the moment in time when I myself was searching for a new notebook and couldn't find what I was looking for. Personally I search for brands with a story, offering something more than just the product they are selling, brands that have values aligning with mine, and brands that understand the importance of quality to make their products last longer and reduce the necessity of replacement...
continue reading our brand story by our founder Vanessa
more to discover
follow us on instagram

For more tips, tricks and insights on all things intentional living, wellbeing, productivity and sustainability, head over to our IG profile.

follow us

from our blog

Check out our latest articles around intentional living on our blog and get inspired to enhance your wellbeing, productivity and sustainability efforts.

read our blog

explore our gift cards

Give your special someone the option to choose for themselves and give them the gift of choice with our nez living gift card.

shop now